News & Views
---
School's GCSE Results
Despite concerns nationally that marking of exam papers was harder on students this year as the Government's policy is to rely less on coursework, there were some impressive results from some students at The Angmering School.
Bethan Williams, Adam Woodard, Lydia Khoo, Flynn Hickey, Arran Collis, Darcy Phillips, Danielle Newman, Naomi Gittus, Bernadette Davies, Beaumont Pritchard-James, James Pearce, Bronte Sandwell and Benjamin Dicker all earned more than 8 A* or A grades. Bethan Williams achieved 13 A*, Arran Collis got 12 A*, Adam Woodard got 10 A*, and Flynn Hickey eight A*.
59% of the School's students achieved A* to C in English and 59% in Maths, while 77% of students gained grades A* to C or equivalent in Science.
23 August 2014
---
Angmering Planning Applications
A/101/14/PL - Extension of car park to provide a further 15 No parking spaces and removal of existing grass bund at Angmering Community Centre, Foxwood Avenue (Bramley Green). Applicant: Angmering Parish Council
Observations on this/these Application(s) must be received by The Head of Planning Services, Arun District Council, The Arun Civic Centre, Maltravers Road, Littlehampton, West Sussex BN17 5LF by 11 September 2014.
To see applications, plans, design statements, etc, type the Application Reference Number (such as those above) into Arun District Council's "Application Search Facility ", click on the Search button, and click on the hyperlink reference when selected application is returned - then select "Documents".
20 August 2014
---
Stubbs Hill poppies
As this photo was being taken looking down Stubbs Hill in the High Street, a lady walked by and said "They're an absolute joy, aren't they?" They most certainly are but the photo does not do them justice. While they unfortunately did not flower in time for the "In Bloom" judging, Angmering In Bloom are again to be congratulated in having the vision to plant the seeds in this location.
20 August 2014
---
Booking Secretary required
Angmering Village Hall is looking for a vounteer Booking Secretary, who preferably lives in the village. Ideally, the Booking Secretary should be computer literate and be able to use Email, MS Word and possibly MS Excel.
If you would like further information, please phone Corrie Brown on 787507.
16 August 2014
---
A-Level Results
The Angmering School this year achieved a 99% pass rate in their A-Level results. This is 1% lower than their 2013 results but reflects the lower pass rate across the country this year. The A* to B grades were down by 4% this year to 44% but again this is reflective of the national trend.
Charlotte Snewin gained the best set of individual results in the school since the A* grade was introduced. Charlotte gained 2 A* grades and A, with an additional A* in the extended project and will go on to study Dentistry at the University of Bristol. Other outstanding performers include Michael Williams (A*AA) and Lucy Crick (A*AA). Michael is going to study Medicine at Bristol and Lucy will study Geography at Kings College London, along with her friend Ellie Wilson who gained three A grades. Luke Flain and Matthew West both gained A*AB, Luke will go on to study Medicine at the University of Liverpool and Matthew will study Civil Engineering at the University of Surrey.
15 August 2014
---
Angmering Planning Applications
A/95/14/PL - New miniature golf course at Rustington Golf Centre, Golfers Lane, Angmering. Applicant: Rustington Golf Centre Ltd
Observations on this/these Application(s) must be received by The Head of Planning Services, Arun District Council, The Arun Civic Centre, Maltravers Road, Littlehampton, West Sussex BN17 5LF by 4 September 2014.
To see applications, plans, design statements, etc, type the Application Reference Number (such as those above) into Arun District Council's "Application Search Facility ", click on the Search button, and click on the hyperlink reference when selected application is returned - then select "Documents".
14 August 2014
---
Angmering Cricket Club
Angmering Cricket Club is set to enter the final few weeks of the 2014, and are inviting anyone wishing to join and play a few games to contact the Club. The Club has been competitive in most matches this year and has been rewarded with wins against Lindfield, the Brighton Exiles, Arundel, and Arundel Grasshoppers. The side has battled to record draws against Preston Park and Brighton Malayalee Association, whilst Rodmell clung on with one wicket left to prevent a deserved Angmering victory.
Paddy Chapman, Chris Mitchell and Jim Hughes have performed well with the bat, whilst Harry Hughes and Glen Lovegrove have recorded their maiden fifties. Adam Rider is currently the sides leading wicket taker with newcomer Peter Hunt also performing well with the ball.
The side play until the first Sunday of October and have 4 home fixtures during September, along with local away fixtures at Littlehampton and Lancing Manor. The Cub is also grateful for their sponsors, Chandlers BMW, Holmes and Company Estate Agents, Projects Abroad and David O Jones Sports for continuing to support the club.
The Club continue to seek locals of all ages to swell its ranks. If you're interested, please contact Jim Hughes on 07778 493241.
14 August 2014
---
Library Reading Group
As many people are aware, Angmering Parish Council (APC) set up a Community Library a couple of months' ago, manned by volunteers, which runs Angmering Library on behalf of WSCC on Saturday afternooms between 1pm and 5pm. On Saturday 11 October at 2pm, APC Community Library are starting a Reading Group in the Library. There are limited places so you need to register early. Anyone interested should contact Susan Francis on (01903) 850202 or email susan.francis@live.com
The Reading Group will meet every three weeks, commencing on 11 October. The books are obtained from the WSCC Library Service and distributed, read at home, and then discussed three weeks later by the Group. Another book is then issued and so on and so forth.
11 August 2014
---
Weathercam returns
After being off-line for about 3 years, Angmering Village Life's own live weather camera is again functioning. You can view the current skies over Angmering by clicking the camera icon in the left-hand navigation bar or by clicking here. Press your PC's 'Refresh' button (F5) to see the skies changing. The camera is situated off Roundstone Lane and points west over the centre of the village.
Our weather station has been collecting and transmitting data to the website almost continuously since 2005. The data is uploaded automatically every 20 minutes. The link to the weather station can also be found in the left-hand navigation bar.
9 August 2014
---
Angmering In Bloom News
AWARDS
The Angmering In Bloom Association (AIB) Garden Competition Awards for 2014 took place on Wednesday 30 July at Haskins Roundstone Garden Centre. The Best Front Gardens, Best Allotments and Best Public House Gardens were all awarded prizes. The Judges thought the standard of the gardens and allotments this year were extremely high and very varied. A children's competition to design a logo for Angmering in Bloom was taken up by some Youth Groups and St Wilfrid's School. The Awards were again generously sponsored by Haskins Garden Centre, who provided a cream tea for the event and Haskins vouchers as prizes. AIB Chairman Julia Phelon and Haskins Assistant General Manager Karen Jenkins presented the prizes. The winners were as follows:
Best Allotments
First Prize - Robert Tutt; Second Prize - Peter and Janet Fordom; Third Prize - Ken Moon
Best Front Garden
First Prize - Barry Carslake; Second Prize - Jan Mockford; Third Prize - Cyril Potter
Best Public House Garden
First Prize -The Spotted Cow ; Runner Up - The Woodman Arms
Angmering In Bloom logo Competition
First Prize - Lauren Smith

Further photos and details of prizes can be seen here

BLOOMING QUIZ NIGHT
The next AIB Quiz Night will be held at the Village Hall on Saturday 6 September 2014 (7.30pm - 10.00pm). Come as a team of 6 or come as an individual and join another team. For further details, click here.
8 August 2014
---
Development begins!
Today (Wednesday) marked the first day of development east of Roundstone Lane when this digger commenced trenching in the field south of Pound House.
8 August 2014
---
Ensure your handbrake is fully on!
This was the scene at St Margaret's Church car park early this morning after a parked Mini rolled down the slope and through the wall. Nobody was injured and little damage was sustained to the car.
5 August 2014
---
Angmering Remembers
Nearly 200 men, women and children gathered around Angmering War Memorial this morning (Monday) for a Service of Commemoration to remember those who died in the 1914-18 War, today being the 100th anniversary of the start of that conflict. The service was conducted by the Rev Canon Mark Standen (rector of St Margaret's Church), assisted by the Rev Michael Bradshaw (minister of the Baptist Church), and the Rev. Thomas Robson (curate of St Margaret's). Prior to the service, crosses for each of those who died were placed around the plinth of the memorial. The names of all those who died were also read out in the order of the year of their deaths. The Royal British Legion lowered their standards when the bugler blew "The Last Post" and raised them again at "The Reveille".
Following the service, many of those who attended walked to the Village Hall where Roger Miles introduced Abigail Eames,10, a budding young actress who appeared in the recent BBC series about the VAD nurses who served in Belgium during WW1. Abigail raised the village flag which will remain raised except on the 100th anniversary of the death of each the Fallen when it will be lowered to half-mast.
After the flag raising ceremony, the Royal British Legion provided refreshments in the Village Hall and presented a static WW1 display together with some projects which Year 8 students at The Angmering School had prepared. Roger Miles introduced his own illustrated work commemorating those who died - now available for viewing in Angmering Library - and presented Abigail Eames with a lapel poppy pin.
Some photos of the morning's events are shown below:

They also served: (l-r) Peter, Marty and George
4 August 2014
---
Rare bike stolen
An expensive bike was stolen from a garage in Bramley Way between 11.00pm on Saturday 26 July 2and 10:00am on Sunday morning. It is a rare Haibike xDuro SL RX electric Bosch motor mountain bike, and is black and orange in colour.
If anyone has any information, please call Sussex Police on 101 quoting serial 0091 28/07/14.
28 July 2014
---
WW1 Commemorations
On Monday 4 August, it will be 100 years since war was declared. Approximately 10 million servicemen and women died and another 22 million were wounded. Virtually no community was unaffected in some way. Here in Angmering, 40 made the ultimate sacrifice, about one in five of those who served.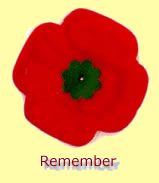 To commemorate the outbreak of the Great War, at 10.30 am on Monday 4 August, the Angmering branch of the Royal British Legion will lead a short Service of Dedication at the War Memorial in The Square to the memory of the Angmering people whose lives were lost during the conflict. Crosses with the names of the Fallen will be laid and displayed around the memorial cross.
Following the service, the village flag will be raised by Abigail Eames at the Village Hall in Station Road. Abigail recently featured in the BBC docu-drama "The Crimson Field" which focused on Voluntary Aid Detachment (VAD) nurses; one of the names commemorated on the War Memorial is of such a nurse which adds poignancy. The village flag will fly for the whole 5-year duration of the Great War and will be lowered by "village flagmaster" Roger Miles to half-mast on the centenary date of each individual life lost in the conflict.
After the flag raising, the Village Hall will be open until 12.30pm (refreshments available) to those interested to see a unique display folder produced by Roger covering all those who died. The folder will then go to Angmering Library where it will be permanently available for viewing. Also on display will be a WW1 project compiled by students from The Angmering School. Commenting on his display folder, Roger said "It is intended to throw light on who is being commemorated on any particular day. It provides a cameo of the individual - military attachments, age, occupation, home address, family, testimonials, photos - an attempt to show how alike they were to many of us. Maps of the time pinpoint long lost homes and, I hope by showing how tiny the village community was compared to today, it will particularly help schoolchildren understand the massive impact losing so many young lives over such a short period had on village families and businesses. Having lost my own grandfather in the conflict, with my father leaving school at 14 to become the household breadwinner, I can well understand how difficult life became for countless families."
The folder is intended to be a living document being constantly updated as more information comes to light. An open invitation is offered to family descendents to attend the flag lowering on individual centenary dates.
It is hoped that many village residents will attend the short service in The Square, the flag raising, and the Village Hall displays to acknowledge the sacrifice these men and women made for us, and that village orgaisations will also be represented. (see poster for programme)
In the meantime, readers may wish to read the following complementary articles in Angmering Village Life's on-line history centre:
WW1 Centenary - Angmering's Fallen - (A list of Angmering's war dead containing as much information as possible about each of them, including some photos)
WW1 Centenary - Angmering's Survivors - (A list of Angmering's war survivors containing as much information as possible about each of them, including some photos)
WW1 Centenary - A View from Home - (News articles giving war related happenings in the parish of Angmering)
WW1 Centenary - Stanley Messenger Correspondence - (The poignant correspondence between Stanley Messenger and his mother and, after his death, her attempts to locate his burial place)
24 July 2014
---
Mr Fred Rowley
We learn with much regret that Mr Fred Rowley died on Saturday morning (19 July). Fred was well-known in the village and was the treasurer of the Village Hall Committee as well as overseeing maintenance of the hall, carrying out much of it himself. He was also a member of the Arun Choral Society, and a former treasurer and committee member of The Angmering Society for many years. Further, Fred was also a former magistrate sitting on the Chichester Bench. We would like to express our sincere condolences to his wife, Jane, and to all of the family.
The funeral will take place at Worthing Crematorium at 1.20pm on Thursday 31 July. No flowers by request
22 July 2014
---
Lamb suffers from lightning strike
Considerable damage was done to the electrical systems in The Lamb after the rare black poplar tree behind the pub was struck by lightning at about 4.00am on Saturday (19 July). The electrical charge jumped from the tree to a security camera pole and in the process destroyed all the televisions in the building and knocked out the telephone system which meant that credit card payment facilities and internet access were unavailable until early this week. Additionally, the control board for the large walk-in freezer was destroyed which led to the loss of the contents of the freezer. Tree debris from the lightning strike was hurled to the far side of The Lamb's car park.
Nearby properties also lost their telephone and internet services. This affected Woodies News on the other side of The Square who were still unable to take credit card payments this morning (Tuesday 22 July). Other shops appear to have been unaffected.
Arrangements have been made for the black poplar to be assessed for damage (see photo right) which it has sustained.
22 July 2014
---
Snippets from the draft minutes of the meeting of the Parish Council on 14 July 2014
Co-Option of new councillors
The Clerk reported that a by-election had been called for one of the two remaining Councillor vacancies, and that this would be held on 5 August 2014 provided that a valid nomination of a candidate had been received by the closing date of 9 July 2014. He have not been made aware of any nominations received by the closing date. The Parish Council will incur a charge for Arun District Council's costs in dealing with the by-election process up to now. Subject to further advice from Arun District Council, the vacancy would possibly need to be filled by co-option. It has also been confirmed by Arun District Council that the other remaining vacancy, occasioned by the resignation of Phil Leverick, could be filled by co-option. Councillor Spooner asked why an election had been called. The Clerk confirmed that the requisite number of members of the public had exercised their rights under the Representation of the People Act 1983 to request an election, which they are entitled to do irrespective of whether any suitable, and willing, candidates come forward.
Angmering Community Land Trust
The Clerk noted that a letter had been sent to the promoters of the nascent Angmering Community Land Trust requesting a formal update on progress, as there appeared to have been little progress since Councillor Spooner's last update. It was noted that the cheques held by Councillor Spooner by way of membership fees are now six months old and probably no longer valid. The Clerk was requested to press the promoters for a response to his letter, giving a 14 day timescale for this.
Grant Applications
Following discussion it was unanimously AGREED to award grants to Angmering Youth FC in the sum of £500, 4Sight in the sum of £250 and St Wilfrid's Catholic Primary School in the sum of £500. The budget for Community Grants for the financial year ending 31 March 2015 had been set at £3,000. Taking into account grants awarded to date, there remains £930 available for further grants during the year.
Downs Way Street Lighting
The Clerk had received communication from a representative from SSE, in relation to the County Council Street Lighting PFI contract. As part of the 15 year PFI contract, SSE had undertaken to replace most of the lamp columns in the County with new more modern and efficient ones. The contractors were shortly to arrive in Downsway, where 25 columns were owned, and maintained under the PFI, by the Parish Council. The question was whether the Parish Council would be in the position to consider the replacement of these and bringing them up to County standards, which would only be applicable to 23 of the columns, but a further 5 columns would be needed for this to happen.
The deal would be that the Parish Council would pay around £5,000 to put in the 5 extra columns and that the 23, plus the 5 new ones, would then be maintained and powered by West Sussex County Council for the future, which would save the Parish Council around £1,400 per annum, giving a pay-back period of between three and four years. A more detailed proposal is in process of being worked up by SSE, but it had been expected that the work would be done over the next few weeks. The two remaining columns were just footway lighting and would need to be dealt with separately, but it was implied that a similar deal could be done. Following brief discussion it was unanimously AGREED that the proposal be supported in principle, subject to final details of the financial implications being provided as per the above.
Verge grass cutting
Councillor Verrinder noted that she had received significant numbers of complaints about the frequency and standard of the grass cutting, which is generally unsatisfactory. There is a need for the Parish Council to explore whether, and if so to what extent, it can take these matters in-house. County Councillor Urquhart noted that when the roundabout sponsorship had ended, insufficient consideration had been given at County Hall as to who should then take on the maintenance of the roundabouts. This has led to the current situation where the grass and vegetation are being cut either sporadically or not at all.
Parish Maintenence
The stone bench which had been sent away for repair had now been replaced. Repairs to the other bench will be undertaken in September, following completion of the commemorations of the centenary of the outbreak of WWI. The skate bowl extension works are due to be undertaken in October, alongside the improvements to the BMX track. The graffiti project is advancing well and is being overseen in partnership with the Angmering School. Office.
Council Governance & Oversight
The Committee's principal piece of work for the coming months is a wholesale revision of the Parish Council's governance procedures and documents. It was noted that the committee Clerk had already undertaken some work in this regard and is to continue with this project. The Clerk noted that the Committee Clerk's contractual weekly hours would need to increase from 25 to 37 (full time) for the time being in order to devote appropriate time to the project. It was unanimously AGREED that this should be put in place, although formal verification of this would be sought at the next Parish Council meeting when it would be on the agenda. Regular reports are to be given to the Committee and to the full Parish Council and it is envisaged that the project will be substantially complete by March 2015.
The full minutes of this meeting may be read by clicking here
22 July 2014
---
Bus in crash in Angmering
The Angmering By-Pass (A280) was closed this afternoon (Wednesday) in both directions after a Tesco's Holmbush Express shoppers' bus was in collision with a white Ford Fiesta at 2.22pm. The bus left the road and ended up at the top of an embankment near the Water Lane junction with the village. A spokewoman from Compass Travel said that there were no passengers on the bus at the time. The driver of the bus was shaken but uninjured. One report suggested that the driver of the Fiesta has collapsed and headed straight into the bus. The condition of the car driver is unknown.
You can read more about this incident and see a video on the Worthing Herald's website by clicking here.
16 July 2014
---
Roundstone Lane - name of new development
David Wilson Homes/Barratts are naming their new housing develpment at the north of Roundstone Lane - "Swanbourne Park". Typical of many developers, this name has absolutely no historical connection with Angmering - just a neme the developers feel would be good for marketing new homes!
Existing nearby houses have had a leaflet delivered to them in the last 24 hours stating that "site set-up works are due to commence on the above development shortly. Machinery will be forming a new site entrance and we will be due to start excavations for foundations, drainage construction and site roads to our show areas imminently. The project works will run for approximately 24 months, market forces permitting."
The developers will be holding a 'Meet the Builder' session on Tuesday 22 July between 4.00 pm and 7.00pm at Worthing Rugby Club in Roundstone Lane where affected residents can find out exactly what they intend to do, what works are to be carried out along the boundary and surrounding areas and what impact this will have on residents' daily lives.
15 July 2014
---
Contains Angmering News since January 2005
---
Note: This is a multi-purpose page - it contains local news, editorial views/comments, and residents' views. Angmering Village Life welcomes comments on the village and parish but will not normally publish individuals' communications, nor will it normally make any comment based on a single observation. However, if a number of similar comments have been made on any one aspect, we will consider including an appropriate item on this page. Any such views expressed will not reflect those of Angmering Village Life unless specifically stated. Angmering Village Life does not purport to represent the residents of Angmering in any way. Angmering Village Life would welcome genuine factual news items for publication on this page.
Declaration of Interests: The Owner/Editor of Angmering Village Life is a member of The Angmering Society, coordinator of the Angmering Table Tennis Club, a member of the Angmering Short Mat Bowls Club, and is webmaster for The Angmering Society.