News & Views

---
Model Railway Show
Celebrating their 30th Anniversary, the West Sussex 'N' Gauge Group will be holding a Model Railway Show on Saturday 5 November 2016 from 10am to 5pm at The Angmering School, Greenwood Drive, Station Road.
This is a bigger venue that past shows in Angmering which will allow more layouts and model railway traders. All gauges will be on display including live steam and train rides. Refresments will also be available. For full details of layouts and traders, visit www.wsng.co.uk
Tickets are £5.00 Adults; £2.00 Child (3-17); £12.00 Family (2+2).
24 October 2016
---
Tea shop hosts book signing
Local author Trisha King will be selling and signing her new book Blame it on the Bugatti at Tea in the Square in the village centre on Friday 4 November 2016 between 11am and 1.00pm.
Blame it on the Bugatti is a rip-roaring tale of fantastic and funny escapades, and the stunning lengths a wife and husband will each go to, in order to finally win their long marital battle for power in order to control the family fortune. As the story reaches its dramatic conclusion, they'll both wish they'd never schemed to buy that Bugatti!
Her book has already received terrific reviews on Amazon, and would make a great Christmas gift, a little indulgence for yourself or for a friend. Trisha hopes to see you in our lovely village tea room.
If you are unable to get to the signings on Friday 4 November, you can order paperback, hardback, and Kindle versions from Amazon at https://www.amazon.co.uk/Blame-Bugatti-Trisha-King/dp/1785078313 .
23 October 2016
---
Angmering Planning Applications
A/173/16/PL - Application for Variation of Condition 2 imposed under A/105/16/PL for removal of boundary walls to north & south & replace with planting & granite kerb stones, reconfiguration of approved bin & cycle store to provide direct garden access through separate kitchen & G floor WC, provision of bins & cycles within approved car port & within rear garden area, minor changes to window & door positions. This application affects the Character & Appearance of the Angmering Conservation Area. Land Rear of 1-6 The Cottrells. Applicant: Nanteos Developments

Observations on this/these Application(s) must be received by The Head of Planning Services, Arun District Council, The Arun Civic Centre, Maltravers Road, Littlehampton, West Sussex BN17 5LF by 10 November 2016.
To see applications, plans, design statements, etc, type the Application Reference Number (such as those above) into Arun District Council's "Application Search Facility ", click on the Search button, and click on the hyperlink reference when selected application is returned - then select "Documents".
22 October 2016
---
Tea Room prepares for winter!
Now that we have entered the autumn with winter approaching, it is getting noticeably cooler. Even we have taken refuge inside when we visit Tea in the Square. However, there are a number of people who have their dogs with them who cannot go into the tea shop and others who have to rely on wheelchairs/mobility scooters who suffer the same problem. Well, Tea in the Square have come up with an answer. From now, over these coming chilly months, they are providing some lovely warm blankets (and later hot water bottles!) for those wishing or needing to sit outside and who may wish to enjoy a hot chocolate or other warming drink, and perhaps try one of their many delicious cakes or scones on offer.
Further, from this coming Sunday, their Sunday hours are changing to 10am till 2pm. They will also have Sunday papers plus some new breakfast items on the menu.
.
6 October 2016
---
Leisure Centre gets go-ahead
ADC's Development Control Committee this week approved plans submitted by Rustington Golf Centre for a major leisure complex to be built on the southern part of their site off Golfers Lane, Angmering. The complex will comprise a 63-bed hotel, a pub/restaurant, 9 x 5-a-side pitches, an indoor trampoline and laser tag centre, a forest adventure kiosk, a nursery, sub-station & associated infrastructure, and parking spaces for an additional 234 cars. A pedestrian and cycle path will be constructed between the site to join up with the existing A259 footpath north of the Sainsbury's pedestrian crossing. The application was approved despite objections from Angmering and Rustington Parish Councils on the grounds of increase of traffic on the A259. With the existing Golf Centre, Virgin Active, Out of Bounds, and the family Adventure Golf course, the site in Angmering will become one of the biggest leisure centres in Sussex.
6 October 2016
---
Snippets from the Draft Minutes of Angmering Parish Council Meeting on 12 September 2016
A259 route improvement scheme
A presentation [at JEEAC] had been given on the A259 route improvement scheme, which had focused on the changes made as a result of the consultation – these were such that a revised scheme would be consulted upon early next year, with a view to construction starting in the 2017/18 financial year. One of the most significant changes was that a left-turn filter lane was now being proposed for the A259/A280 roundabout, to facilitate traffic movements from the westbound A259 into Old Worthing Road. This had previously been ruled out.
Co-option of Councillor
It was proposed that David Marsh be co-opted as a Parish Councillor and on a show of hands this was unanimously AGREED. Councillor Marsh proceeded to sign the Councillor Code of Conduct and took his seat among the Councillors.
Village Traffic Management Scheme
[The Chairman reported] The Traffic Management Scheme (in whatever form it finally materialised) was now scheduled for the 2017/18 financial year, when developer contributions should have been received, and prior to any work being done on the A259.
Play areas refurbishment
Councillor Phelon, as Chairman of the Communities, Leisure, Environment and Well-Being (CLEW) Committee explained that the Committee had considered a quotation for work said to be required on the play equipment in the Parish Council play areas. The quotation had come from Vita Play, following the annual inspection by a separate company, and amounted to more than £50,000. The CLEW Committee had taken the view that there were only some items on the list that needed to be carried out now, which incorporated all identified health and safety issues, the replacement of broken nets on the Russet Play Area and rot damage to swings on the Braeburn site. On a proposal by Councillor Phelon, seconded by Councillor Thompson: That the CLEW Committee be given powers to expend up to £5,000 on repairs to play equipment – unanimously AGREED.
Windmill Bridge Junction
[From JEEAC meeting] The additional signage installed to dissuade motorists for making illegal right turns onto the eastbound A259 from the left-hand lane had been noted as being wholly inadequate and was to be revisited.

Station Road roundabout
[From JEEAC meeting] Councillor Mountain noted that the working group had asked for a yellow hatched box at the bottom of Station Road, in place of the widely-ignored "keep clear" markings. This was due to be put in place soon and did not require a TRO.

The full minutes of this meeting can be read here
6 October 2016
---
2016 Conker Competition
DATE: SUNDAY 9th OCTOBER
TIME: REGISTRATION FROM 13.00 FOR 13.30 START
VENUE: THE SPOTTED COW, HIGH STREET, ANGMERING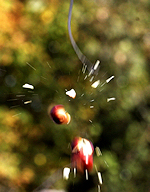 The S.C.O.T.C.H. Team Conker Competition, inaugurated in 1980, is for teams of 3 players of all ages. This is the ?3rd consecutive year at The Spotted Cow. In that time, only two teams have won the competition more than once. It is recommended that the minimum age limit is 8 years old. There is no maximum age limit; the oldest player in past years has been 98 years young. Under 16s must be accompanied by a responsible adult. The organisers will try to make up teams with people who don't have three players.
All conkers and string are provided by the organisers.
The competition is run on a knockout basis with all first round losers eligible to play in The Plate Competition. Trophies and/or medals are awarded the first three teams in the main draw. The winning team are also awarded "THE ALLEYCAT CATTERIES" shield. The winners of the plate draw also receive medal. In addition there are prizes for the Most Outstanding Player. For full rules, previous winners, et., visit www.abooty.co.uk/scotchhomepage.html
The entry fee is £10.00 per team. There is a barbecue and raffle. The proceeds of the event will be donated to Chestnut Tree House.
Liquid Logic will be playing live music from 16.30.
3 October 2016
---
AIB launches 2017 calendar
The Angmering In Bloom Association has produced a beautiful calendar for 2017 showing various immages of the Village throughout the seasons. Copies are available now.
The calendars can be purchased for £5 each from Woodies Newsagents in The Square, Angmering, or from the the Association at the various events being held in the next few months. These include the Village Hall Christmas Fayre on Saturday 3 December.
Alternatively, to place an order, please send an email to: info@angmeringinbloom.co.uk or telephone (01903) 778661 or (01903) 783754.
29 September 2016
---
New primary school proposed for Angmering
The Arun-based Schoolsworks Academy Trust, which recently received permission to open a free school in Littlehampton, has organised an information event to enable parents and local people to find out more about its plans to open a new primary school in Angmering. Schoolsworks is a growing multi academy trust, with ambitious and sustainable plans to work with others to add to and improve the quality of school provision in West Sussex.
Schoolsworks propose to establish this free school, to be known as the Schoolworks Community Primary School, in the Bramley Green area of Angmering in 2019, in recognition of the housing development has taken place in the locality over recent years and the current developments east of Roundstone Lane. Although there is currently capacity to expand existing schools, and indeed some expansion projects are under-way or under consideration, the trend is for a shortfall of places to be felt by 2019. The Trust plans to work closely with nearby schools to create a one-form entry school that will grow to two forms of entry as the need arises.
The information event will conducted by the Schoolsworks team will be on hand to answer questions at Rustington Primary School in North Lane, Rustington on Tuesday 27 September between 3pm and 4pm. If you are unable to make it, you can complete a Consultation Form on Schoolworks website at http://www.schoolsworks.org/about-us/new-schools/

Read more at: http://www.littlehamptongazette.co.uk/news/education/trust-asks-for-opinions-about-proposed-new-school-1-7590117
22 September 2016
---
Co-op looks for charity partner
The Southern Co-operative's food store in Angmering is looking for a charity partner based in the area to fundraise for throughout 2016/17.
As part of The Southern Co-operative's new 'Love Your Neighbourhood' community scheme, the convenience store is encouraging charities, community groups and good causes to apply before 10th October to become their official fundraising partner.
Jessica Hughes, Community Investment Manager for The Southern Co-operative said: "The Southern Co-operative is run by local people, for local people, and after consulting with over 4,000 members and colleagues about our community engagement, we have developed our new localised 'Love Your Neighbourhood' community scheme. Love Your Neighbourhood focuses our community activity on benefiting the communities we serve at a much more local level and gives all stores, funeral homes and other areas of our business the opportunity to choose their own fundraising partner."
Love Your Neighbourhood will address four key themes, promoting: 'Greener Neighbourhoods', 'More Inclusive Neighbourhoods', 'Safer Neighbourhoods' and 'Healthier Neighbourhoods'. Charities applying for a fundraising partnership need to demonstrate how they support one of these categories.
Once a local cause has been chosen through a colleague vote, The Southern Co-operative's Food store colleagues, customers and members across Sussex will begin fundraising for the charity. Previously, colleagues have engaged in a variety of different sponsored activities for charity including sky dives, abseils, runs, weight loss challenges and much more!
As part of the Love Your Neighbourhood programme, all of The Southern Co-operative Food stores and Funeralcare homes across the south are currently on the hunt for a local fundraising partner.
To apply, please pop into Angmering's Southern Co-operative food store to collect an application form or visit http://www.thesouthernco-operative.co.uk/makingadifference/local-partnerships/ and fill in the downloadable form which will need to be returned to your local store. Alternatively, you can e-mail: community@southerncoops.co.uk for further assistance. The deadline for applications is 10thOctober 2016.
15 September 2016
---
Pub sign stolen
The pub sign outside The Spotted Cow at the east end of the High Street has been stolen leaving only its metal frame. Landlord Michael Collis discovered the theft on the evening of 6 September when he went to lock up for the night. The sign has been outside the pub for 20 years.
Anyone who may have witnessed the theft or has any information, should contact Sussex police on 101 quoting 182 of 08/09.
14 September 2016
---
Nursery Open Day
Now that the older children are back at school, Angmering Day Nursery is offering another Open Day to fill their final places. Angmering Day Nursery are located at Millhouse Croft in Station Road and the Open Day will be on Saturday 24th September (10am-2pm). Go along to see what they are all about and to find out what's in store for the children at the Nursery!
Places are currently available for children aged between 2 & 5 and some Government-funded free sessions are available. Home cooked nutritious meals are prepared in-house. The nursery has now been running for 10 years and constantly receives excellent Ofsted reports.
For further information, visit the nursery's website at www.angmeringdaynursery.org or phone 01903-779324.
13 September 2016
---
Angmering Weather Pages
Due to building work with continual power interuptions, we regret that our weather pages and weather camera will not be opperational again until the end of October.
11 September 2016
---
Snippets from the Draft Minutes of Angmering Parish Council's Community, Leisure, Environment, and Wellbeing Committee Meeting on 31 August 2016
Mayflower Park Lighting
This was complicated and should be looked at when considering the strategy development of Mayflower Park.
Picnic Tables in Mayflower Park & Vandalism
Although this item was on the agenda to consider the effect of the vandalism on the picnic tables, the Clerk explained that, since the agenda had been sent out, one of the skatebowl lighting columns had been pushed over by vandals. This had highlighted the increase in vandal damage now being experienced in a number of places. An incident had occurred a week earlier at which one of the groundstaff had been present when damage had been caused at the Palmer Road pavilion. All of the incidents have been reported to the police, crime numbers have been obtained and the insurance company notified.
Play Area Refurbishment
Councillor Hamilton-Street outlined the need to have a Play Strategy, to assess what was in the parish already and what was needed to provide the right equipment for the right children in the all parts of the village. The Clerk made the suggestion, which was AGREED by the committee, that the replacement of the nets and a repair to the bridge on the senior play unit on Russett Play Area should be done, along with the suggestion from Councillor Thompson that the swing unit on Braeburn Play Area should be replaced. The Clerk would request the finance from the Parish Council at its next meeting to fund these changes.
Health Service Provision
The Clerk informed the committee that a meeting was being set up with the Angmering Practice surgery to discuss the access to Section 106 money, as an attempt to ensure this was used for the original purpose, in Angmering.
The full minutes of this meeting can be read here
5 September 2016
---
Imagineering Club for youngsters
After a second successful year Angmering Community Centre plan to continue with its Imagineering Club from 22 September 2016. Practical engineering tasks are provided to capture the imagination of young people.
Projects will include:
Magnetic Compass
Letter Balance
Glider
Soldering
The projects best suit youngsters aged around 10 to 12 years. The Club will meet between 4.30 and 5.30 p.m. on Thursdays. There is a maximum group size ofs twelve – so book your place now to avoid disappointment.
The cost will be about £4.00 a week (to be confirmed when we have the price of the kits - and they keep the models they make).
If you and your youngsters find this interesting please contact the Office at Angmering Community Centre on 01903 773982 or office@angmeringcommunitycentre.org.uk to register your interest and reserve a place. (See more on the Imagineering web site at www.imagineering.org.uk )
5 September 2016
---
Contains Angmering News since January 2005
---
Note: This is a multi-purpose page - it contains local news, editorial views/comments, and residents' views. Angmering Village Life welcomes comments on the village and parish but will not normally publish individuals' communications, nor will it normally make any comment based on a single observation. However, if a number of similar comments have been made on any one aspect, we will consider including an appropriate item on this page. Any such views expressed will not reflect those of Angmering Village Life unless specifically stated. Angmering Village Life does not purport to represent the residents of Angmering in any way. Angmering Village Life would welcome genuine factual news items for publication on this page.
Declaration of Interests: The Owner/Editor of Angmering Village Life is coordinator of the Angmering Table Tennis Club, a member of the Angmering Short Mat Bowls Club, and owner & moderator of the Angmering Forums.