Angmering's Post Offices and Postmen
by Neil Rogers-Davis
---
The Sub-Post Office
There appears to have been some sort of postal service in Angmering by the late 18th century as there is a reference to it being established "by 1793". This may have been a receiving house or a receiving officer who was responsible for delivery of letters locally and collecting postage dues from recipients. Notwithstanding that, Angmering's first sub-post office can be traced back to about 1851 when Kelly's Directory of that year indicates that young Allen Johnson (born in Angmering in 1824) was the village's postmaster but there is some evidence that Angmering was already receiving mail by 1845 under the pre-paid postage stamp system introduced by Rowland Hill in 1840. Allen was the son of Angmering grocer William Johnson and his wife Elizabeth who lived, and presumably had their store, at Eachways in The Square. The Census of 1861, however, identifies elderly Elizabeth Johnson, aged 78, as the sub-postmistress but she died later that year.
Whether or not Allen Johnson reverted to postmaster after the death of his mother is unknown, but we do know that by 1871, Allen seems to have been relegated to a post office messenger and that the sub-post office itself was now being run by Arthur Elliott as part of his drapery and grocery business at London House in The Square, situated just behind where the Co-op store (previously Londis) is today.
Until 1 May 1879, the Angmering rural sub-post office came under the jurisdiction of Arundel Post Office but after that date it came under the jurisdiction of the Head Post Office in Worthing. In 1883, the Angmering sub-post office was allocated the duplex cancellation stamp "G72" which continued in use for many years.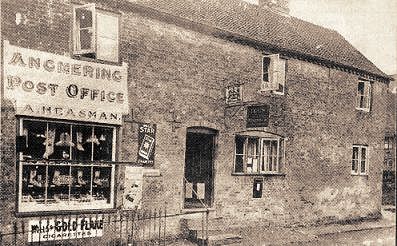 By 1891, the sub-post office was in the hands of Richard Winchester at his drapery shop in the High Street at what is now Winchester House. Richard Winchester died in 1905 and for five years the business, including sub-post office, was run by Thomas Marsh. In 1910 it was sold to Henry Beman who maintained the sub-post office at Winchester House until the business was sold in 1922. However, the post office authorities were disinclined for some reason to transfer the postal business to the new owner, and it therefore appears to have gone to Heasman's Stores (see photo - right) at their grocery business at Commerce House, located in the High Street, where the residence 'Freelands' is today.
In about 1930, Cheesman's Stores in The Square, were given the sub-post office - Cheesman's was where Blaber House ('Pearl Dentists') is now. Separate postal facilities were created by Walter Cheesman on the west side of his shop with its own discrete entrance.
In the late 1930s, Alan Collins was appointed sub-postmaster at his bungalow at 21 Water Lane, opposite what is now Chandlers Garage. He died in the 1950s and, for a few years, his wife maintained the post office with her sister. In 1957, retired bank official, John K Carnegie, from Sutton Coldfield took over the reins in the old Wapling's bakery shop at Somerset House in the High Street until he relinquished the post in 1962. However, it was not until September 1965 that John Phillips was appointed sub-postmaster at Somerset House and he and his wife Matty ran the business until August 1979 when Howard and Rebecca Lilly took it over and maintained a very efficient service there until their retirement in November 2001. For a while, it was thought that Angmering might lose its sub-post office, but thankfully Londis (Wards) Stores ( now the Co-op) stepped into the breach and developed an excellent new facility running it in parallel with their grocery business in The Square.
Angmering Station District Post Office
While Angmering had its village sub-post office, the district post office was located at Angmering Station. This opened as a " Money Order and Savings Bank Office" on 1 March 1880. This office also received and despatched mail from and to Worthing under whose jurisdiction it came until 1919, and acted as the sorting and distribution centre for mail and parcels for not only Angmering, but also for East Preston, Kingston, "Angmering-on-Sea" and Rustington. Officially, this was another rural sub-post office of Worthing. It was also the local telegraph office. The person in charge of all these facilities was the station master himself. The closure of the Station post office was announced in the Post Office Circular of 4 October 1922.

The sub-post office in Angmering village received mail via Angmering Station and outgoing mail was collected by it. In 1883, Angmering Station office was allocated the duplex cancellation stamp "G73" but, later, postage stamps were cancelled with an "Angmering Station" stamp (see photo - left).
In 1881, George Langley (aged 14) from Blaber House was a "Telegraph Learner" at Angmering Station but progressed to a postal clerk there 10 years later. However, his brother Alfred appears to have been responsible for the telegraph service at the Station in 1891.
In 1883, the Angmering Station office was allocated the duplex cancellation stamp "G73" which continued in use for a number of years.
The Sussex Daily News in December 1911 carried a report of a question to the Postmaster General asking whether he was aware that the postmaster at Angmering was also the stationmaster. The Postmaster General replied that the stationmaster was appointed sub-postmaster in 1901 when no other candidate applied for the position and, as the sub-postmaster was not required to devote his whole time to the duties, he saw no reason for disturbing the appointment.
Letter Boxes, collections, and public telephone
Today Angmering has a handful of letter boxes in the village, only a few more than had been established some 100 years' ago. By about 1890, a wall letter box had been placed by the Rectory (what is now Syon House) in the High Street, and within about 10 years, another wall letter box had been established near the church in Arundel Road plus a pillar box located at Hammerpot. After WW2, the wall in which the letterbox had been inserted at Syon House had collapsed, and the box was re-built into a new attractive flint and brick pier on the other side of the road (see photo - right). However, in 1960 it was removed as it was only about 40 metres from the one at the new Post Office at Somerset House. This box was removed from Somerset House in 2005 and new ones were sited in Roundstone Lane and Rowan Way to serve the Bramley Green development.
In about 2004, the wall housing the George V post box on the corner of Rectory Lane had collapsed after having been struck by a vehicle and a new modern replacement box was installed on the east side of the road. In 2010, a George V box was installed in a new brick and flint pillar at the corner of the High Street and Roundstone Lane.
Up until 1919, Angmering postal services came under the jurisdiction of the Head Postmaster at Worthing but, despite much opposition from the local hierarchy, who feared a deterioration in deliveries/collections, services were transferred to the Head Postmaster at Littlehampton.
Through the 19th Century and early part of the 20th Century, letters were delivered to and collected from Angmering sub-post office three times a day from Monday to Saturday and, surprisingly, a single Sunday service.
A public telephone was available at the post office for use by villagers. In 1917, residents could use the telephone "after hours" provided the postmaster was available and on payment of one shilling.
Postmen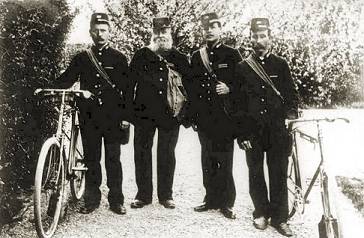 While we know that Allen Johnson was a post office messenger in 1871, it is not until the 1891 Census that the first postman is recorded. This was 21 year old John Sturt who was living in the High Street at the time.
By 1901 there were two postmen living in the village, i.e. Bill Edmunds (from Barrack Yard Cottages) and Jack Graysmark (from Thorpe Cottage), both aged 27. Bill certainly had been a postman for several years by that time and, on the cover of "Angmering - Reminiscences of bygone days", he is pictured in uniform mounted on his penny-farthing. By about 1907, there were at least four postmen serving the Angmering and East Preston area - (see photo - right) (l-r) Bill Edmunds, George Corney (of Preston Cottage), "Happy Jack" Graysmark, and Jack McDonald. Soon after, they were joined by Edward Heasman who later enlisted with the Royal Horse Artillery in WWI and was wounded in the leg in 1917.
Unlike today with the availability of delivery vans, it was not always so easy to deliver mail in the 19th and early 20th Centuries, especially in remote parts of the parish. We know that 100 years' ago, for example, Jack Graysmark had to walk up to Lee Farm (in the more remote northern part of Angmering) to deliver mail there and at other places en-route - not a pleasant job in wintery conditions.
One of Angmering's longest serving postmen was Charlie Heasman, son of Edward and Sarah Ann, who joined the service in the 1920s and continued up until the 1970s. He also had to undertake the long trek up to north Angmering but there were some advantages - a pheasant caught in wire fencing would occasionally find its way back to the village! In more recent times, other postmen such as Dennis Brown have provided a sterling service in the village for all or most of their working lives.
Neil Rogers-Davis
______________________
(Source information: Census Records (1841-1901); Angmering Parish Registers; Kelly's Directories (various years); Long's Directory (1892); Angmering Parish Council records;
"Scribble" (1916-1919); Sussex Daily News (Dec. 1911); "Angmering - Reminiscences of bygone days"; R & J Horton; H Lilly; E Penn; RW Standing; B & N White, J Foster, Evening Argus, Worthing Gazette)
(re-published from the Angmering Society Newsletter June 2004 but with new material added in 2007, 2008, and 2010)
Page last updated: 12 March 2013